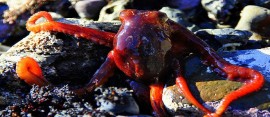 As we swim in a perpetual news cycle flooded by fictitious talking points and rhetoric, we thirst for authenticity. Propaganda no longer quenches our questions and feelings about the world. Its words seem void of meaning, and debates are moderated away from resolutions.
We have to find meaning in what we say to one another, and we need to find new ways of communicating that allows for what Terence McKenna foresaw in our future: "Like the octopi, our destiny is to become what we think, to have our thoughts become our bodies and our bodies become our thoughts." For instance, if I want to communicate how I feel, I have to consult a culturally agreed upon internal dictionary. Looking at this, we can see how limited we are with the most common responses. For example, "Hey man, how are ya?" is generally responded to with "I'm, good". In this case, 'good' is the equivalent to the ink spray of the octupus. An octopus can change his skin with a plethora of elaborate colors and a stunning displays of psychedelic visuals. This display of visual syntax is the internal state of the octopus externalized for you to see, making thoughts and feelings visually beheld. Take a moment and listen to Terence McKenna talking about Visual Language. We will then get into how technology is making this new way of communication actually possible.
[youtube responsive=true id="MhpMfo4yxtA" align="left"]
Let the good bard Mckenna explain this point deeper: "It's possible to imagine a future world  where clear communication, clear expression of intentionality was very important, [and] that people would actually go into the virtual reality to use the visible language because its capacity for conveying intent would be much greater than ordinary spoken language."
Think of a future Google Glass app that interacts with your latest biofeedback device. If you think about it, we are creating augmented digital mood rings. Such an app, like the conceptualized Google Aura, would allow you to see a color surrounding the person you are looking at. That color will be based on live biofeedback of the person's internal state, taking 'blushing' to a new level. Are we ready for our internal states to be exposed for all to see? Perhaps not yet, but one thing is certain: someday we will all be digitally naked in this world.
——-
Image Source: Flickr
Love our content? Join the Serious Wonder Community. It's free, and we have lots of incentives for readers and contributors!
You may also like